Shuttle bus from Hallstatt to Cesky Krumlov by CK Shuttle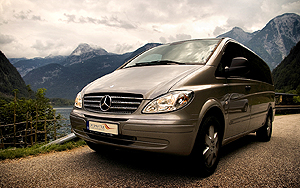 The easy and fast way of traveling.
Since there is no direct train connection, the best way of getting from Hallstatt to Cesky Krumlov and from Cesky Krumlov to Hallstatt is taking a door-to-door shuttle bus, which will pick you up directly at your hotel outside the traffic-free zone (*) and take you to the hotel in the other destination.
The price of the transfer from Hallstatt to Cesky Krumlov is 1 100 CZK / person and it takes about 3 hours. The distance is approximately 200 km.
If you wish a complete privacy, we can provide a private transfer from Cesky Krumlov to Hallstatt or from Hallstatt to Cesky Krumlov for 3850 CZK (passenger car for up to 3 persons), 4500 CZK (passenger car for up to 4 persons) or 6500 CZK (van for up to 8 passengers).
* Due the enormous influx of visitors each year, there is extremely limited parking in the village center and through traffic is not possible. Therefore the center of Hallstatt is closed to all traffic between 10:00 and 17:00 from May until October. Look at the map to see the traffic-free zone and our pick-up and drop-off places for our customers accomodated inside this zone.
Except for Hallstatt, it is also possible to book a shuttle bus from (to) Obertraun, Gosau, St. Wolfgang and Bad Ischl.
CK Shuttle provides a friendly, affordable and reliable shuttle bus transportation service, which is an easy, fast and comfortable way of getting between Cesky Krumlov, Vienna, Salzburg, Hallstatt, Linz, Prague and other destinations.
Our fully air-conditioned 8-seated vans and 4-seated passenger cars driven by experienced english speaking drivers will take you directly from your hotel to your desired destination - fast and easily, without any bus / train interchanges and overcrowded public transportation.
We offer both shared shuttle bus transportation for those who wish to reduce their budget by sharing the van with other fellow travellers, and private transfers for those who wish to enjoy the privacy of their own car.
We provide a door-to-door service from Hallstatt to Cesky Krumlov, which means that our experienced english speaking driver will pick you up directly in your hotel in Hallstatt and take you directly to the other hotel (or any other destination) in Cesky Krumlov for no extra charge.
We offer discounts for groups of four and more passengers.
We offer a refreshment during the ride. Non alcoholic beverages and czech beer is free on board.
We try to arrange our schedule according to your needs. Just fill your preferred time of departure into the booking form and we will inform you whether it is possible or offer you the closest departure time possible.
Once we confirm your booking, we do not cancel it because of low number of passengers. Due to our diverse fleet of cars we are able to transport even only two persons.
Payments are accepted in CZK or EUR.
We have all the necessary business licences to operate transport services.
Each of our cars is insured against an accident covering the damage to both property (including luggages) and health to up to 2.9 milion Euros
How to book
To book your transfer, please use the form at the top of the page or use the booking form.